OUR GOLF COURSE
A JEWEL IN MAURITIUS
A paradise for golfers, anahita golf COURSE is adelight for both amateurs and professionnals
The Anahita Golf Course Mauritius is a par 72 championship course boasting outstanding panoramas with numerous seafront holes along the biggest lagoon of Mauritius. It is challenging for all golfers but delivers a truly unique golfing experience, never to be forgotten.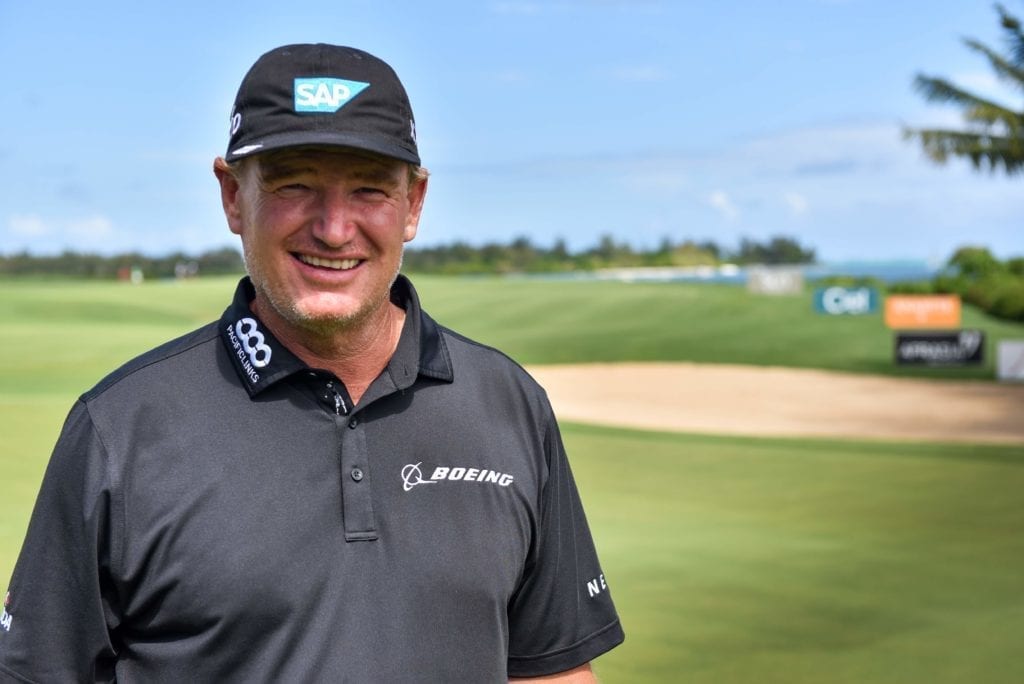 ERNIE ELS
COURSE DESIGNER
The South African golf Legend, Ernie Els, designed Anahita Golf Club in 2008. His experience and victories around the world allowed him to create a course suitable for all golfers.
HOLE BY HOLE
FLY OVER OUR COURSE HOLE BY HOLE
Hole 1
Par 4
Tortoise Corner
Straight into the mix with an opening hole that is no push-over. You've got to hit a good tee shot to avoid the deep fairway bunker on the right, so maybe go with lofted-metal. The green slopes from left-to-right, so favour the left half with your approach shot and the ball should feed-in from there.
Hole 2
Par 5
Old Stone Aquaduct 
If you're looking at the aggressive play off the tee, to set-up birdie or eagle chance, you'll have to take on the wall with your tee shot. Up ahead at the green, a mango tree and bunker protect the right-hand side. Don't go there. There's a generous bail-out area in front and behind the green. 
Hole 3
Par 4
The Virgin & The Child 
You'll need to thread a straight tee shot down the fairway to avoid the many bunkers lying in wait. Favour the right side if anything, because of the ball then feeds off the right-hand bunker, into the fairway, and that gives you a better look at the green. The right-hand side of the green is the smart side, too. 
Hole 4
Par 5
Ocean Drive 
I love this tee shot. There are wonderful sweeping views of the Indian Ocean in the background and the wide fairway gives you a chance to get out the 'big stick'. The wind is into your face, so you'll need it. The approach shot is pretty tight. Feed it from left-to-right for a two-putt birdie chance.
Hole 5
Par 3
Mangroved Nest 
I'm sure you can feel the right-to-left wind off the ocean, so make sure you allow for that and aim a little right of your intended target. It's always best to work with the wind, not fight it. Club-up, as well. A tidal pond guards the front right portion of the green, so no prizes for being short. 
Hole 6
Par 4
Mystery Pond 
It's a strong Par-4, this one, although the prevailing wind is at least in your favour. Get the ball in play with whatever club you feel most comfortable of hitting straight; you're then looking at mid-to-long iron into a narrow green with water and bunkers there to catch any stray shots. 
Hole 7
Par 4
Mango Orchard 
Là encore, bien placer votre coup de départ, le coup idéal allant raser le vieux « Mango Orchard ». Vous aurez de là une bonne ouverture sur les ondulations du green. Attention au vent quand vous serez là. Il soufflera souvent de l'arrière ce qui rendra difficile contrôlable l'effet rétro de la balle. La meilleure façon de « rater » et d'être long.
Hole 8
Par 3
Manta Ray 
Over 200 meters in lengh and with a green surrounded by bunkers, this hole requires lengh and accuracy. A hybrid of fairway metal is the weapon of choice for most. The ball feeds in from the fairway into the mouth of the green, so a solid, straight shot should find the putting surface.
Hole 9
Par 4
Lazy Burn 
I like a golf course to have a driveable Par-4 and this is it; it's a classic risk-and-reward hole. Anyone having a crack at the green has to negotiate the links-style 'burn' rambling through the fairway. The further you hit it, the more the 'burn' comes into play. It's a tough drive or an easy lay-up.
Hole 10
Par 4
Coconut Grove
Another shortish Par-4, this time played slightly uphill through the Coconut Grove. Length is not a major issue, so play your tee shot with a nod towards your position, not power. The green is pretty small – nevertheless, it is a good birdie chance to set you on your way to back nine.  
Hole 11
Par 4
Secret Bay 
The fairway bunkers I'm sure have got your attention, but if you can find the short grass with your drive then the green is very much in range. You'll want to go in there with some elevation, though, because the bunker is a nasty one – deep and best avoided, basically! 
Hole 12
Par 3
Bougainvillea Zuietude 
Another good Par-3, this time played into a strong right-to-left ocean breeze. Again, work with the wind, don't fight it. There's a bit of room for error up at the green, with a few bail-out areas. Little bump-and-run shots are the name of the game there. No real need for fancy lofted pitch shots.
Hole 13
Par 5
Holy Hill 
This is a long Par-5 and it plays uphill, although the prevailing wind is at least in your favour. Hit the fairway and this is a realistic birdie chance. It's a well-bunkered green, though, so if you're not confident of making the carry, maybe lay-up to your preferred pitching distance. 
Hole 14
Par 4
Scottish Taste
This is a classic golf hole with a dry-stone rock wall slanting across the fairway, determining your strategy. The more aggressive you are with your line, the further you have to carry the wall. Be honest with yourself and if you feel it's a stretch, you can always play it as a simple three-shotter.  
Hole15
Par 4
Bassin Lubine 
This long par-4 has lovely sweeping views of the bay and Bassine Lubine. Once you've got your drive away, you're looking at a tough shot into a shallow green with deep bunkers guarding the front. It cries out for the high-flying, soft-landing shot, so for most golfers a hybrid is the smart choice. Be honest with yourself and if you feel it's stretch, you can always play it as a simple three-shotter. 
Hole 16
Par 4
Pinnacle Point
With views of Ile au Cerfs and the bay in the background, this hole has a cluster of bunkers down the right-hand side, so favour the left side with your tee shot. The good news is, the left side gives you the best view of the green. It's well-bunkered up there, though, so you need to be precise.
Hole 17 
Par 3
Turquoise Lagoon
I've played a lot of beautiful golf courses, but trust me it's hard to beat the views of the bay and Indian Ocean as you walk from the 16th green to the 17th tee. It's just stunning. You'll like the look of this hole, too. It's the shortest on the golf course and a definite birdie chance. Take dead aim.
Hole 18
Par 5
Sugar Estate Ruins
This is one of the best finishing holes that I've seen anywhere in the world. Strong hitters will see this as a birdie, maybe even an eagle opportunity, but going for the green in two shots is risky. There are still birdies to be had with a smart, three-shot strategy. And that's always a nice way to finish any round!